Mobile Cath Lab Machine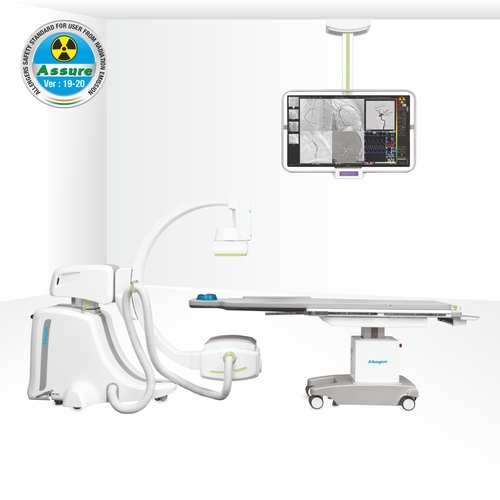 Mobile Cath Lab Machine
Product Description
Product:Â Mobile Cath Lab
Models:Â Allengers - Life HP / Life FP
Series:Â PHOTON
Allengers Photon Mobile Cath Labs are having advanced high-definition digital image acquisition, processing, and review system encompassing multiple applications in one system. Dedicated to improving the quality of life by providing state-of-the-art cardiology services, on Allengers Photon series, one can perform heart catherizations and peripheral vascular imaging.
Special Features:
X-ray generator comprising of multiple inverter modules.

Multiple beam-hardening filter for low dose imaging.

Heavy-duty metal centre x-ray tube with efficient cooling system.

Flat Panel Detector with 20 X 20 cm / 30 X 30 cm.

55 inch high-resolution, high luminous, TFT colored monitor.

1K x 1K or 1.5K x 1.5K for higher image resolution.

SID movement for better image quality and minimal radiation hazards.

Direct digital image formation.

STENT View software for enhanced stent visualization.

Next generation SYNERGY software for low dose imaging.

Integrated dose area product meter, dose control, radiation free preview collimator.

3 Axis (longitudinal / transverse / up & down travels) mobile table with floating carbon fiber top.

Integrated Digital Subtraction Angiography (DSA).

Fully motorized movement of C-arm and patient table.

AFD display for LAO / RAO / CRA / CAU / SID positioning.

Ceiling mounted arrangement of monitors.

Non-contact proximal sensor based anti-collision.

A.S.S.U.R.E protocols for enhanced radiation safety.