Electrocardiograph (ECG Machine)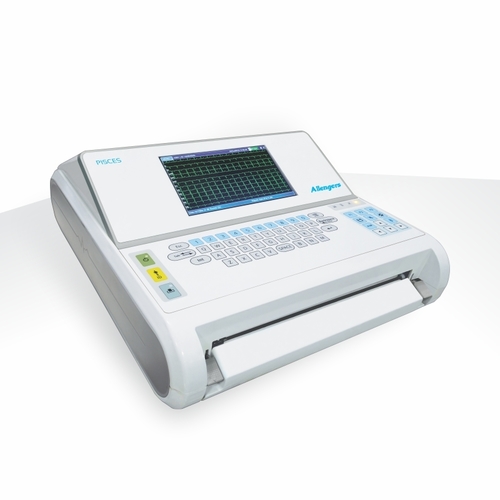 Electrocardiograph (ECG Machine)
Product Description
Product:Â Electrocardiograph (ECG Machine)
Series:Â PISCES 12 Ch

Allengers PISCES is designed to record the standard 12-lead resting ECG with 3, 6, 12 multiple Channel formats. It comes with 7" TFT color display to ensure clear and reliable ECG trace outs, which are also visible on A4 size printouts. It detects cardiac (heart) abnormalities by measuring the electrical activity generated by the heart.
Salient Features:

7'' color display with touch screen.

On-screen interpretation.

2000 patient recording capacity.

Export the ECG raw data & also make ECG PDF, which helps to send the data by mail via PC software.

Directly attach with external USB printer for printing.

Facility to update machine software in the field by connecting pen drive directly.

Modes: Auto / Manual / Rhythm.

A4 size thermal printer with Z fold paper.

Highly informative print out on thermal paper with all 12 leads and one selectable rhythm lead, which helps in identification of any type of arrhythmia /abnormalities.

Full alphanumeric keyboard with many shortcut keys to open the various options.

Other advanced features: multiple printing formats, display options, and many other user-friendly options.