Electrocardiograph (ECG Machine)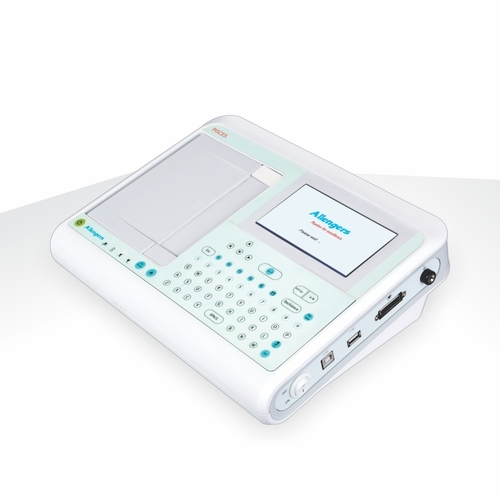 Electrocardiograph (ECG Machine)
Product Description
Product: Electrocardiograph (ECG Machine)
Series : PISCES 3/6 Ch
Allengers PISCES is designed to record the standard 12-lead resting ECG with 3/6 Channel formats. It comes with 5 inchTFT color display to ensure clear and reliable trace outs, which are also visible on 106mm X 20M paper printouts. It detects cardiac (heart) abnormalities by measuring the electrical activity generated by the heart.
Salient Features:
Dual working of Acquisition box - Stress ECG & Resting ECG.
User friendly software with-editable protocols, online/PDF printing, RR analysis, PVC detection, and many more options.
Optional Automatic NIBP measurement in AM model.
Unlimited no of Protocols (Standard and User Defined).
Online update allows user to download the latest software from Allengers server.
Maintenance free 3 phase AC motor.
Applications:
It helps a doctor find out how well your heart handles work. As your body works harder during the test, it requires more oxygen, so the heart must pump more blood.
The test can show if the blood supply is reduced in the arteries that supply the heart.Â
* Manufactured by Allengers Global Healthcare Pvt limited.
* Specifications and appearance are subject to change without prior notice.